WFC CSKA Youth: October
What happened in the youth team WFC CSKA on October
The match of the 7th round of the final stage of the Youth Championship ended with a confident victory for our team with a score of 3:0. The opponent was the Ryazan-VDV team. Just three minutes after the starting whistle, Anastasia Samsonyuk was in the right place at the right time, which helped the team to get ahead. After a couple of sharp attacks, it was time for the second goal scored. Victoria Sogrina scored in the 13th minute. The third goal was scored by the opponent in his own goal.
The youth team of JFC CSKA won an important victory over Krasnodar on the road. In the 4th minute, Anastasia Pecherskaya sent the ball straight into the goal with a long-range free kick. In the 5th minute, the opponent's goalkeeper made a mistake, and Marine Achoyan brought the ball almost into the empty goal of Krasnodar.
The final round of the Youth Championship ended this Saturday. It was in it that the winner of the first place of the championship was to be determined. At the 19th minute Anastasia Pecherskaya realized such a necessary moment. Nastya from a corner kick sent the ball exactly into the near upper corner of the goal. The first half ended with a score of 1-0 in favor of our girls. Valeria Bizenkova scored a goal in the 79th minute. Vera Eremenko assisted her. The result of the match is 2:0 in favor of our team.
***
The first semi-final of the YFL-girls tournament was held today. The opponent of the red-blue was the Krasnodar team. The score of the match is 2:0 in favor of the red-blue team. Marine Achoyan created four scoring chances, the first three failed to be realized, but the fourth one was crowned with the long-awaited goal. The second goal scored came in the 62nd minute of the game.
The junior team of WFC CSKA moves to the final, having defeated the Krasnodar team in the second match of the semifinals. The only goal of the match came at the 16th minute of the first half. Valeria Menyailova hit the opponent's goal with an accurate, tight shot into the bottom corner. Marine Achoyan assisted her.
In the final match of the YFL-girls championship, the teams of WFC Chertanovo and WFC CSKA met. After the end of regular time, the score remained tied (1:1), and the match went into a penalty shootout. From our team, the eleven-meter ones were performed by Anna Bykhanova, Tamila Dzanagova, Marine Achoyan, Kristina Perminova and Valeria Menyailova. Each of them realized their moment. 5 out of 5 eleven-meter shots were scored! It should be noted that thanks to the save of Ulyana Obukhova in the penalty shootout, our team had a one-goal advantage. As a result of the post-match penalties, WFC CSKA won with a score of 4:5 (regular time 1:1).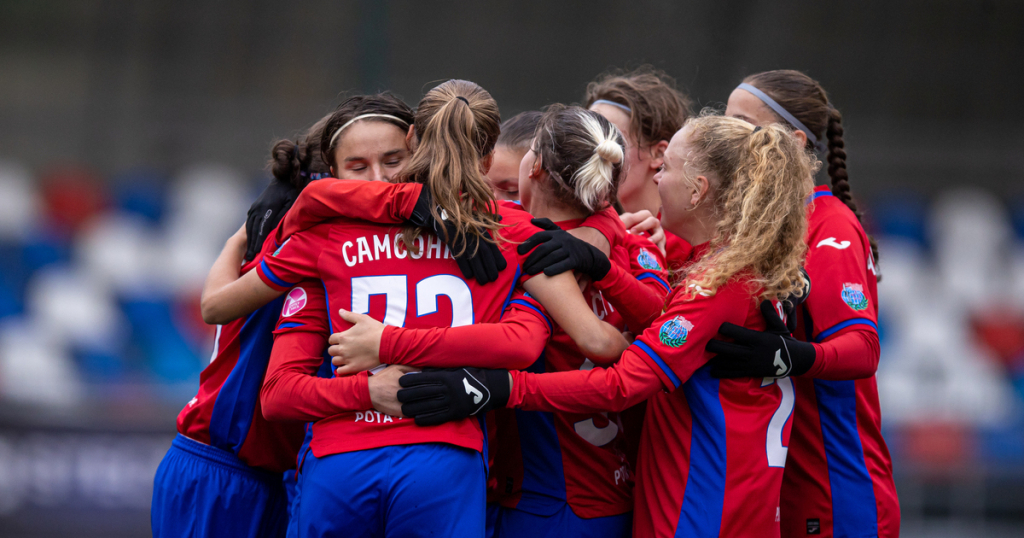 Share:
Твитнуть
Плюсануть
Поделиться
Отправить
Класснуть
Запинить