WFC CSKA – Ryazan-VDV: Draw in Moscow
1:1 at the October Stadium.

























































Alexander Grigoryan, WFC CSKA head coach:
– We expected such a game from the opponent. Ryazan-VDV looks very good in attack, combines well, and, in principle, played to its strength. As for our team, we didn't realize many chances. Perhaps this is due to my arrival: this is my first week. Perhaps someone overtrained or wanted to prove herself, but something did not work out. If we do not take the result, then, in general, we created quite a lot of chances. Another question is in defensive actions, where I didn't like everything.
WFC CSKA – Ryazan-VDV –
1:1
Goals:
Damjanovic, 27 (1:0), Krasnova, 54 (1:1).
WFC CSKA:
Todua, Pleshkova, Jankovic (Alekseeva, 83), Damjanovic, Kovalenko, Pozdeeva, Smirnova, Chernomyrdina (Petrova, 64), Onguene (Shkoda, 83), Ordega (Kiskonen, 61), Gordon (Kozyrenko, 61).
Ryazan-VDV:
Shirokova, Larina, Eremenkova, Skidan, Lazarevic, Perepechina, Zavadkina (Tikhon, 87), Alpatova, Krasnova, Matic (Solina, 82), Dergousova (Zubkova, 71).
Yellow cards:
Damjanovic (33), Smirnova (65).
Red cards:
Damjanovic (90).
Referee:
Lyubov Tarbeeva (Kirov).
October 10, 2021. Russia. Moscow. Stadium October.
WFC CSKA
Moscow, Russia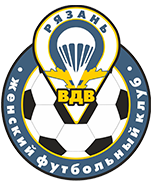 Ryazan-VDV

, Russia
Дамьянович,

33′

Смирнова,

65′
Reports & media
Share:
Твитнуть
Плюсануть
Поделиться
Отправить
Класснуть
Запинить