WFC CSKA outscored Rubin in Kazan
Huge road win for the Red-Army team!



























































Sergey Lavrentyev, WFC CSKA head coach:
– We were seriously preparing for this match. We analyzed Rubin's game, we know that this is an unyielding team that recently grabbed a good victory [over Krasnodar]. It is very difficult to play with them, and I am grateful to the girls. We have developed a strategic plan for the match, which we have fully implemented. In the first half, there was a little lack of realization of moments in the endings of attacks, but we made up for everything in the second half. During halftime, we focused on the final stage of the attack, which at first did not work out. We have corrected this, and all the changes made have borne fruit.
Rubin – WFC CSKA –
0:4
Goals:
Smirnova (46), Chernomyrdina (54), Onguene (66), Yaschenko (84).
Rubin:
Zhukova, Diyun, Sholgina, Akhmedova, Kulinich, Zainutdinova, Kotelnikova, Nurimanova, Garanina (Mamedova, 69), Stepanova (Seifeddinova, 63), Ibragimova (Lyukina, 67).
WFC CSKA:
Ananyeva, Damjanovic, Alekseeva, Jankovic, Myasnikova (Pleshkova, 87), Karandashova (Ermakova, 82), Pozdeeva, Smirnova, Chernomyrdina, Shkoda (Yaschenko, 72), Onguene.
Yellow cards:
Myasnikova (82).
Referee:
Karina Saakyan (Voronezh).
July 17, 2021. Russia. Kazan. Stadium Rubin.
Rubin
Kazan, Russia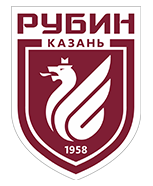 WFC CSKA

Moscow, Russia
Смирнова, 46′

(0:1)

Черномырдина, 54′

(0:2)

Онгене, 66′

(0:3)

Ященко, 84′

(0:4)
Reports & media
Share:
Твитнуть
Поделиться
Плюсануть
Поделиться
Отправить
Класснуть
Запинить