WFC CSKA: October
What happened in the main team WFC CSKA on October
WFC CSKA wins the derby with Lokomotiv. The match of the 21st round of the Super League between CSKA and Lokomotiv ended with a score of 2:1. Nevena Damyanovich sent the ball into the opponent's goal with a strong blow. At the 12th minute of the match, the score was 1-0 in our favor! After Yulia Myasnikova's serve, Margarita Chernomyrdina sent the ball into the goal of Lokomotiv.
In the match of the 22nd round, WFC CSKA defeated Zenit St. Petersburg with a score of 2:1. In the 32nd minute, Gabrielle Aboudi Onguene opened the score in the match by shooting a long-range shot after a pass from Yulia Pleshkova. Zenit equalized at the beginning of the second half. But Margarita Manuylova, with a passing shot from the penalty area into the upper right corner of the goal, brought the team forward after the transfer of Nadezhda Smirnova.
WFC CSKA started the final stage with a victory over WFC Dynamo. We went to the break with a goalless draw. But less than five minutes after the start of the second half, Yulia Myasnikova scored after a corner kick from Nadezhda Smirnova. In the 72nd minute, Nadezhda Smirnova served from the corner flag, Margarita Chernomyrdina closed the pass and increased the gap in the score by scoring with her head. And a minute before the end of the main time of the second half, after a pass from Tatiana Petrova, Yulia Myasnikova scored a double.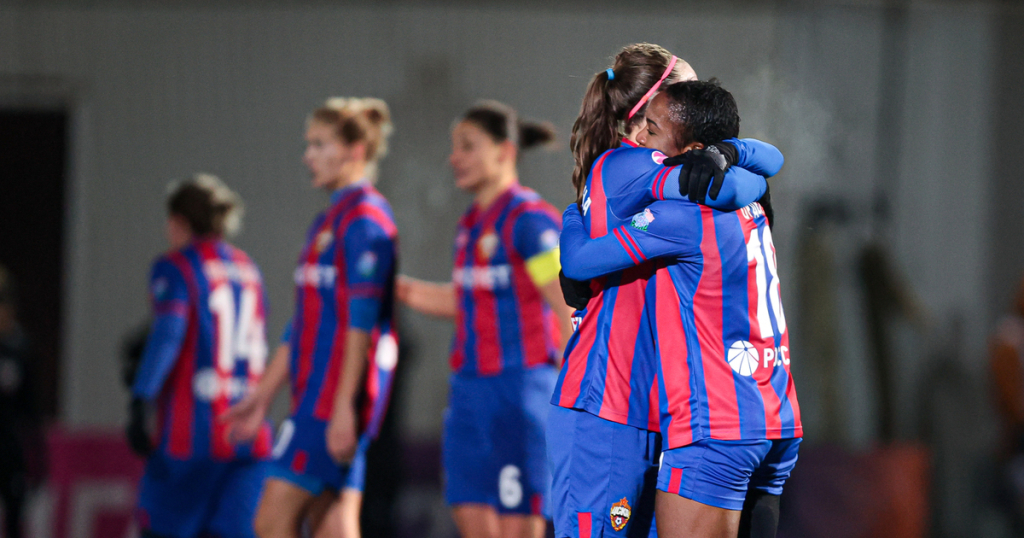 Share:
Твитнуть
Плюсануть
Поделиться
Отправить
Класснуть
Запинить