WFC CSKA is the winner of the Cup of Russia!
WFC CSKA defeats WFC Zenit 1-4 in the final of the Winline Cup of Russia.




























































































Already in the second minute, the red-blues earned a corner, Yulia Myasnikova came up to the ball. Five minutes later, Yulia tried to score from a long distance, but the ball went above the goal. Tatiana Petrova tried to repeat the episode a few minutes later with a strong blow, but the rebound saved the opponent's goal. Zenit earned its first corner in the 17th minute, the attack was dangerous, but goalkeeper Elizaveta Shcherbakova coped with it perfectly. And almost immediately — the first penalty. But our defense played reliably, and Elizaveta Shcherbakova again fixed the ball in her hands, taking it for herself. A promising attack was organized by Margarita Manuilova, but Tatiana Petrova failed to complete her transfer with a goal, although she took the ball near the goal. A minute before the end of the main time of the first half, the red-blues still managed to score, Gabrielle Aboudi Onguene sent the ball into the lower right corner of the goal. And she immediately earned a warning for taking off her game T-shirt: it was a gesture in support of the victims of the landslide in the capital of Cameroon.
A couple of minutes after the start of the second half, the score was even. Elizaveta Shcherbakova knocked the ball out, the first on the ball was Gabriela Gzhivinska, who was able to get into the goal from afar. But the equal score did not burn on the scoreboard for long. In the 55th minute, a penalty was awarded for the game with his hand in the goal of Zenit. To confirm the controversial episode, the referees used the VAR system — this is the second case in women's football when a video recording system is used. Nadezhda Smirnova confidently converted a penalty and brought the Army team forward again. After that, Zenit made several attempts to attack our goal, but without success. In the 72nd minute, Franciska Ordega increased the lead in the score. Franny broke into a one-on-one attack with several Zenit players, but easily beat both them and the goalkeeper, scoring under the crossbar. And ten minutes before the end of the main time of the match, Nadezhda Smirnova sent the fourth ball to Zenit from the transfer of Daria Yakovleva.
WFC CSKA is the winner of the Winline Cup of Russia! For the second year in a row, the army team took the trophy for themselves, beating WFC Zenit in the final match.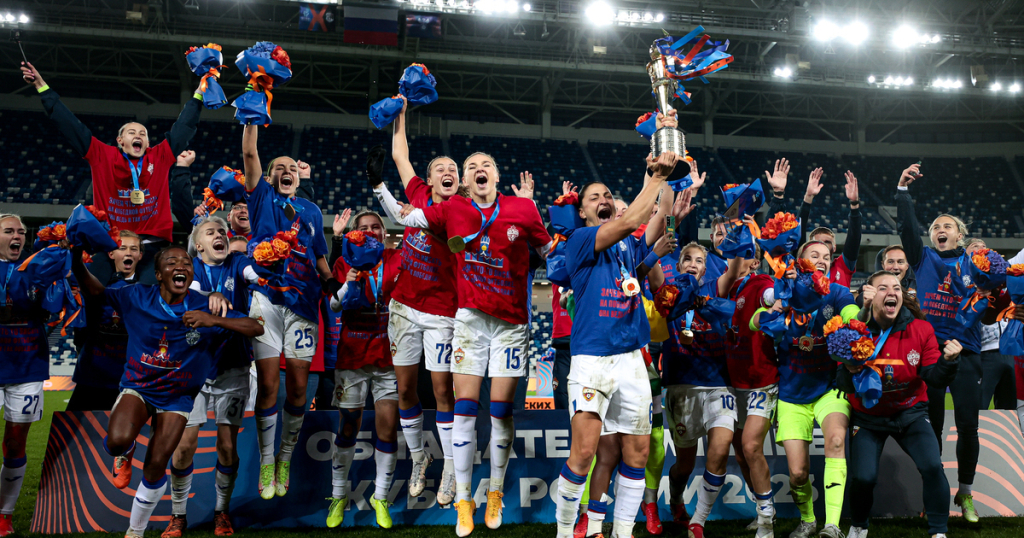 Zenit
Sankt-Peterburg, Russia



WFC CSKA

Moscow, Russia
Абуди Онгене, 44′

(0:1)

Смирнова Н., 55′ pen

(1:2)

Ордега, 72′

(1:3)

Смирнова Н., 88′

(1:4)
Reports & media
Share:
Твитнуть
Плюсануть
Поделиться
Отправить
Класснуть
Запинить