CSKA clinch three points in Kazan having beaten Rubin
A confident road win in the Superleague round 24.








































































Alexander Grigoryan, WFC CSKA head coach:
– This win may have been relatively easy, but I would like to mention Rubin. I really liked this team and the progress that Rubin made under the new coach. I see that they are putting up very serious resistance to every opponent. I think it will be difficult for many teams with the women's Rubin next year. Rubin looked very convincing today. This is a huge difference compared to what it was before.
Rubin – WFC CSKA –
0:3
Goal:
Kovalenko, 24 (0:1), Chernomyrdina, 73 (0:2), Shkoda, 88 (0:3).
Rubin:
Zhukova, Andreeva, Sholgina, Diyun, Mirzalieva, Zainutdinova (Mamedova, 66), Kotelnikova, Khairulina, Kulinic (Ibragimova, 77), Nurimanova (Lyukina, 74), Stepanova (Garanina, 77).
WFC CSKA:
Shcherbakova, Myasnikova, Damjanovic, Alekseeva, Pleshkova, Chernomyrdina (Shkoda, 80), Smirnova, Petrova (Pozdeeva, 80), Kovalenko (Bizenkova, 66), Kozyrenko (Onguene, 46), Gordon (Kiskonen, 66).
Yellow cards:
Kozyrenko (6), Diyun (42), Onguene (53).
Referee:
Vera Opeykina (Sochi).
October 30, 2021. Russia. Kazan. Stadium Rubin.
Rubin
Kazan, Russia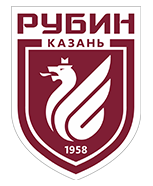 WFC CSKA

Moscow, Russia
Коваленко, 24′

(0:1)

Черномырдина, 73′

(0:2)

Шкода, 88′

(0:3)
Козыренко,

6′

Онгене,

53′
Reports & media
Share:
Твитнуть
Плюсануть
Поделиться
Отправить
Класснуть
Запинить